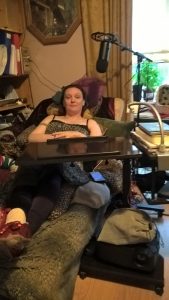 What did happen to Midir? Why does he appear in so few stories? It is a mystery. A murder mystery? Could be. Certainly Midir's reputation was usurped and he, himself, seems to have been, effectively, 'disappeared!
For a more 'in depth' examination of this topic go to:
This short recording was originally made for an on-line conference hosted by Vyviane Armstrong. The weekend conference was entitled "Tuatha Dé Danann. Our Tribe and Theirs". Some of you may have already heard this presentation but, for our other listeners, I thought I would upload the recording. It is good to get Isolde back 'on the mike' and your donations have helped her to find new equipment that allow her to record lying down. We hope to record the promised, Q &A very soon.
This was the seventh conference in the series 'A Year With The Gods. There was a very interesting and varied programme and Isolde and I were delighted to be involved.' If you would like to know more more about Vviane's future events, do contact her for more details.
Vyviane Armstrong
Land Sea Sky Travel
vyviane@landseaskytravel.com
Podcast: Play in new window | Download