A Craneskin Bag of Downloadables
1. Materials for use with children and young people
In my work with children and family groups, in libraries and schools, i take every opportunity to share some of the rich treasures of Irish story. I offer a story show for the eights and over which are introduced with costumes and props – a bronze mirror, sword, cauldron, and so on – to set the stories in context. A favourite prop is a wonderful and huge curved animal  horn that produces the most amazing noise. Getting it to sound makes a popular champion's portion challenge in any show and is great fun. I am intending to upload a few of the stories from this and other shows as audio files. To start with, I am making available some short (1500 word) plays for the primary age range.  These are ideal for the primary school classroom. as they are extremely easy to stage and have plenty of available roles. They also have the advantage of introducing children to some of the lesser known stories in an appropriate form
Bricriu's Feast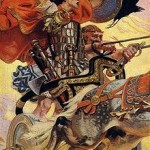 Download play: Bricriu's Feast
This play tells a small part of a much longer saga but is entertaining in its own right.
The Tale of Conan Maol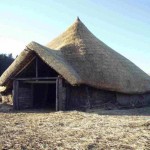 Download play: The Tale of Conan Maol
This is a fun version of one of my favourite stories of Finn and the Fianna
Sinann, the Story of a River
Download play: Sinann
This is my retelling of the story  of the River Shannon. It is part based on the Metrical Dindshenchas and part O'Curry but I find it is a very popular story and has a central female role.
Return to links page for a range of audio and video stories.