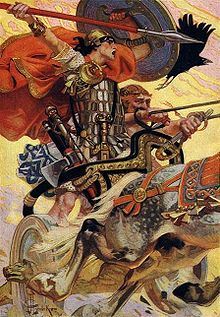 In the second part of Fled Bricrenn, our heroes make their way to Crúachán to be judged for the Champion's Portion. But their routes there and back are most circuitous.
Follow on their heels with the Story Archaeologists as Cú Chulainn, Loegaire and Conall are tested in some unexpected ways!
If you have any technical difficulties downloading or listening to the podcast, please leave a comment below.
Don't forget to subscribe to get the latest posts!  Related Articles will be posted in the days to come.
Check our Reading List for further reading and resources.
Old episodes now available on archive.org.
Music: "Tam Lin" by Gian Castello.
Links for the episode
Podcast: Play in new window | Download