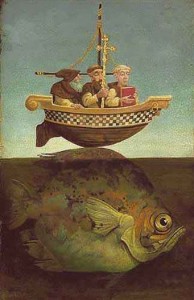 There are some characters in Irish story who are just hard to ignore. St Brendan the Navigator is one of them. Although his voyage is not one of the Immrama from the tale lists, he confidently sets of with his crew of monks to sail to the Land of Promise of the Saints.
Join the Story Archaeologists as they follow in the wake of a saint.
Don't forget to subscribe to get the latest posts! Related Articles will be posted in the days to come…
Story Archaeology is run on a voluntary not-for-profit basis. If you can afford a donation towards our running costs, we would be very grateful. The "Donate" button is on the right-hand-side of each page.
Check our Reading List for further reading and resources.
Music: "Tam Lin" by Gian Castello
Podcast: Play in new window | Download