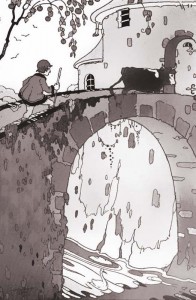 This is the first of two supplemental episodes supporting our recent podcast, Tales of Ethliu (revisited). "Elin Gow, the Swordsmith and the Cow, the Glas Gaianach" is a folktale collected in the southwest of Ireland by Jeremiah Curtin in the late 19th century. The tale first appeared in "Hero Tales of Ireland". It is a great story that overlaps the better known, tale of Balor and the stealing of a marvelous cow but this version answers the surprising question of how the cow got to be kept by a sword-smith in the first place and fills in some details of Cian's amazing adventures.
Read "Hero Tales of Ireland online.
https://archive.org/stream/herotalesofirela00curtuoft/herotalesofirela00curtuoft_djvu.txt
Folklore from the Dingle Peninsular. Local folklorist , Doncha Ó Conchúir talks about 'The Gate of the Cow", two pre-historic stone pillars near Ballyferriter, Co. Kerry. He tells a recent version of the last milking of the marvelous cow. The stone pillars are very interesting. Maybe it is these pillars that gave rise to the story of the transformation of cian in the story we tell of Elin Gow.
http://www.voicesfromthedawn.com/gate-of-the-cow/
Podcast: Play in new window | Download