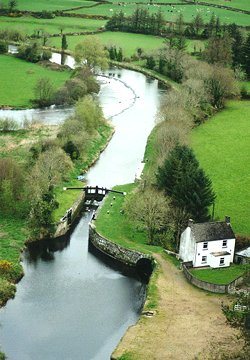 From the Metrical Dindshenchas, Volume 2, poem 13, p. 62
Edited by Edward Gwynn
Translation by Isolde Carmody
Berba
1. In Berba búan a bailbe,

The Barrow, lasting its silence,

saiges dar slúag sen-Ailbe;

which reaches across the host of old Ailbe

is fis fedma fáth dia fail

it is a duty of knowledge to find [out] the reason

Berba, bláth cech blad-focail.

[its name is] "Boiling", the flower of every renowned word.
2. Ni fuailfed focheird inti

It is not agitation [i.e. it was stillness] that was caused in it [by]

luaithred Mechi mór-millti:

the ashes of Mechi Great Destructions:

rosbalb rosberb cen athbach

It silenced and it cooked [the river] beyond redress,

salchur serb na sen-nathrach.

the bitter filth of the old serpent.
3. Nathir fo thrí focheird cor

The serpent three times ventured

tathig in m-beirg dia bronnud:

stalking the plunderer to consume him:

cnáifed dia álaig óg n-ell

From its behaviour, it would have gnawed all the troops

slóg sádail na sen-Érend.

Of the peaceful host of old Ireland.
4. Aire-sin romarb Mac Cécht:

Because of that, Mac Cécht killed [it]

ba fotha garb din glan-echt,

there were severe sanctions [arising] from the pure slaughter

dia chosc co búan din bronnud

for preventing it eternally from the destruction,

ós cach cúan, din chomlongud.

Beyond all sanctuary, from the total consumption
5. Eól dam a lecht leth rolá

Its grave is known to me, the part where he threw [it]

fert cen tech is cen tuga:

a tomb without house and without covering

a lúaith olc cen áib n-enga

its bad ashes, with no harmless character,

fofúair socht i sáer-Berba.

It found peace in the noble Barrow.
NOTES
Ailbe
Mag Ailbe, the Plain of Ailbe, was an area of Leinster, including the River Barrow (Berba), parts of the Wicklow Mountains, Slewmargy (Sliab Mairge) in Co. Laois, and parts of Counties Kildare and Carlow, east of the river Barrow.
See Hogan's Onomasticon, Letter M
Berba
The Barrow river.  The word berba itself means "boiling, melting, dissolving".
In O'Davoran's Glossary, the word is analysed in order to make sense of the calmness of the river:
Ber = bir = uisce ("water") & ba = balb ("dumb / silent / stammering")
The Barrow is largely slow and flat – with only one natural weir.  It is tidal as far in as St. Mullin's in Co. Carlow.  This makes it a good salmon river. It also has a decent otter population.
For descriptions of the river as it is today, see the following websites:
Irish White Water:
http://www.irishwhitewater.com/river_guide/river.php?id=390
Environmental information:
http://www.npws.ie/protectedsites/specialareasofconservationsac/riverbarrowandrivernoresac/
ell
This means a "flock" or "troop", and can refer to both people and animals.
Mac Cécht
Literally, "Son of the Plough", he is one of three brothers who are sons of Cermait and grandsons of the Dagda.  His brothers were Mac Gréine ("Son of the Sun") and Mac Cuill ("Son of the Hazel"). Mac Cécht was said to be married to Fotla ("Divisions"), and his two brothers to her two sisters, Ériú ("Land") and Banba ("Movement? Deeds?").  All three women were supposed to give their names to Ireland in turn, although Fotla and Banba have only been used poetically to refer to the country.
Mechi mór-millti
The name, Mechi, is difficult to analyse.  The closest I have come is the term Methi, meaning "blight", which seems apt given the description of the serpent in this poem.  His epithet, mór-millti, "Great Destructions", also seems appropriate.  He is most definitely a serpent, the term used is nathair, cognate with the English word "(n)adder".
rosberb
This term is used to describe the effect on the river made by the ashes of the serpent, Mechi. It is clearly derived from the same root as the river's name, Berba, and so means "boiled, melted, dissolved".  The closest I have been able to come to understanding the use of this word in context is the denaturing of enzymes caused by cooking them. Perhaps it convys a sense of something being dead and inert after it has been boiled.