Stories and Activities for Children 1: Bricriu's Feast
Chris Thompson ♦ 14/04/2020 ♦ 2 Comments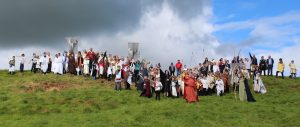 It has been a while since Isolde and I have been able to work on the podcast but I have continued working with the stories in schools around Ireland, This year, as part of the 2020 Tain March Festival, in May, I had planned to set up a children's Óenach in Roscommon. Like so much else, this has been postponed for the foreseeable future
But this very postponement offers new possibilities. , As a teacher, I am only too aware of the need for fun and interactive 'things to do' at home at present.. Those of you who value the old Irish stories as much as I do might welcome stories and projects based on marvel-ous Irish hero stories,
So I am going ahead in releasing my schools' Irish story telling programmes "Warriors, Heroes and Poets". There will be videoed stories and full project pack suitable for use by siblings or as a whole family if you like.
I will also be uploading some audio readings of stories of the stories from my, as yet, uncompleted book. This post contains just one of these stories. This is Bricriu's Feast. We covered the story for adults in a previous series. This version is a 'family' version.
Watch the animation, part of this story, The Cats of Cruachan.
Return to the 'Stories at Home' project hub

Podcast: Play in new window | Download
Subscribe: Apple Podcasts | RSS | More