Biodiversity & Survey Report 2023.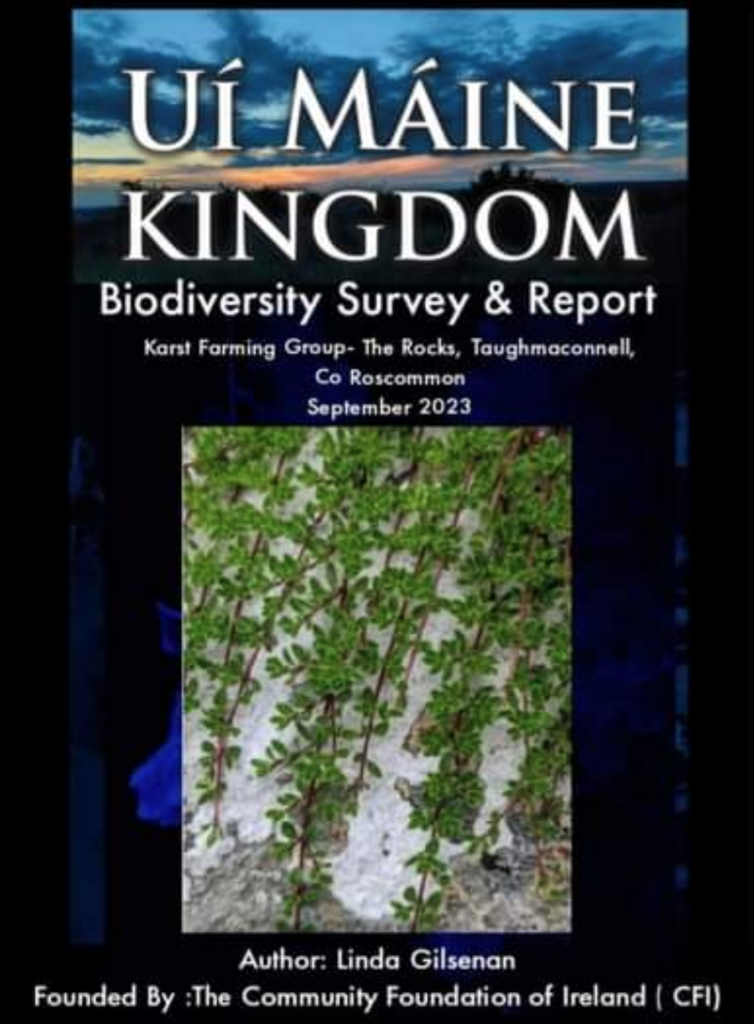 The Uí Maine Kingdom groups ( Karst faming Group, Celtic Eye Art Group & Taughmaconnell Hall ) were delighted to hold a presentation on thursday October 19th at 9pm in the Taughmaconnell Hall, South Roscommon. Wonderful Co Meath Ecologist Linda Gilsenan who has worked on this survey & report over the past year on the karst landscape of South Roscommon delivered the presentation of this report on the Night.
Linda's presentation was fantastic & full of deep emotion, research & highlighted how important this unique landscape is & that it is vital to protect it for generations to come especially now that we are dealing with a Climate Change Crisis.We were also delighted to have other groups, speakers & locals attend on the night including Aisling Dolan Senator , Cllrs John Naughten, Tony Ward & Emer Kelly, Anthony Waldron from the Suck Valley Way, Eoghan Finneran Farmeye, Maureen Lee Irish Wheelchair Association, Conor Johnston Ballinasloe District & Heritage society & Louise Lennon Rural Link .
A big thank you also to the wonderful Taughmaconnell Hall Committee for the welcomed refreshments on the night.
We also announced at the event that we are currently working on a book since the end of the summer which will include all the work, Projects, Art, Photos, Organisations , Biodiversity Report & everyone one who supported us on this project for the past 3 years which will be gifted to the community & all involved when completed.
Our Uí Maine Kingdom group are very appreciative to all who joined us on this Journey so far as it would not have been possible to get as far as this report unless we had that much needed support.
We will continue to work together as we have done highlighting the karst Landscape of South Roscommon, Biodiversity, Heritage , Folklore, Myths & Legends of the Land.
Roscommon Bodiversity & Heritage Officer Nollaig Feeney extended her apologies in an email as she could not attend on the night & she also kindly congratulated our group on the Biodiversity Report & Survey.
We would also like to say a huge thank you to Community Fund Ireland for their support & funding of this report.
A very special thank you to our own Theresa Dempsey who took all the photos on the night .
We were also delighted to make a presentation to all the ladies involed in this project from groups, organisations , Taughmaconnell Committee, locals & Linda on the night to show our sincere appreciation for all the work they do.
This Report also includes other specialists who were involved in the survey of the Karst Landscape.