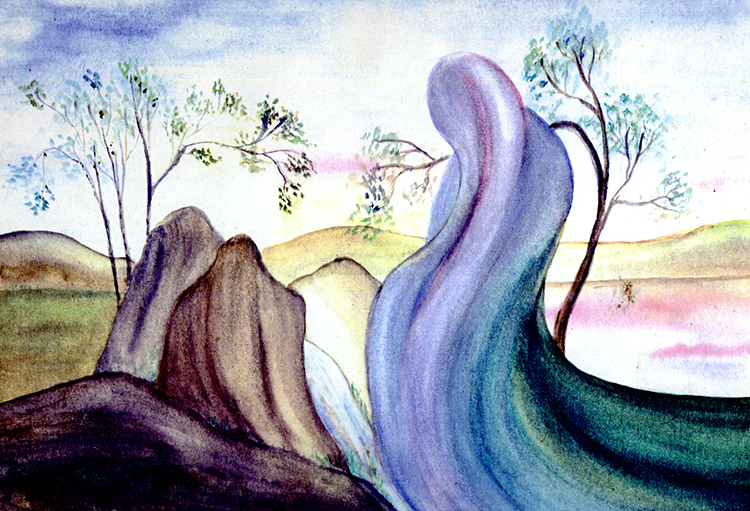 Three prizes of £1,000 each
And £1,000 worth of prizes for children
(Any form of visual or literary art)
We are launching an international arts competition centered on the mythological goddess of Ireland's longest river – the Shannon. In Irish mythology, rivers are personified as divine figures attributed with gifts of poetic inspiration and mystical wisdom. The aim of the competition is to re-ignite awareness of Sinann who has too often been forgotten in the mists of time.
Sinann sought inspiration and knowledge at Connla's well – a place where nine hazel trees of wisdom grew. The pursuit of knowledge is also the aim of Coventry University's Fluid and Complex Systems Research Centre (FCS) which is a member of L4 – an international collaboration of four prestigious research centres. Its Maths Meets Myths research programme uses mathematics to investigate world mythologies and epic literature [1-5]. Knowledge and education are also the themes of Rathcroghan Visitor Centre in County Roscommon. Home to Cruachan Aí, it is the largest un-excavated Royal Site in Europe and of central importance in Irish mythology [6]. The Story Archaeologists are experts in Irish mythology and Sinann in particular [7]. Their explorations of original Irish texts inspire art forms that illuminate their meaning. Research and cultural matters are communicated to the public through quality media such as the Irish Post [8,9]. To reflect these, Coventry, Rathcroghan, The Story Archaeologists and the Irish Post are teaming up with a broad panel of judges from diverse backgrounds. Their contribution to the judging process will help promote Sinann and all she stands for – research, education and enlightenment.
Why three prizes?
Sinann passed a three-sided stone to the mythological hero Fionn MacCumhaill when he was set upon by fierce warriors at a ford on the Shannon. We encourage the public to do their own research into Irish mythology and reclaim the rich stories within. The three main prizes (£1,000 each) are equal in value as are the prizes for children.
Why an international competition?
Ireland has a global diaspora. We think anyone identifying themselves as Irish, part Irish, with interest in or love of Ireland deserves to be informed of the heritage they feel connected to.
Why Coventry?
With a large Irish population, Coventry has been selected as the UK's City of Culture and will host Fleadh Cheoil na Breataine (Ireland's "feast of music in Britain") in 2021. In recognition of its research and teaching achievements, and to support impact of its research on the world beyond academia, Coventry University is funding this competition.
Why L4?
L4 is a research collaboration between FCS (Coventry) and counterpart groups in Universität Leipzig (Germany), Université de Lorraine (France) and the Institute of Condensed Matter Physics in Lviv (Ukraine).
Why Rathcroghan?
It is a site steeped in myth and history. Ireland's most famous epic, An Táin Bó Cúailnge, begins and ends here [6].
Why the Story Archaeologists?
Experts in Irish mythology, their podcasts have inspired adults and children alike. They have long been advocates of Sinann and all she stands for and bring unique expertise about the Shannon's authentic river story [7].
Why the Irish Post? The Irish Post has promoted Ireland, its affairs and culture for 50 years. With 3 Million visitors online every month it remains the voice of the global Irish diaspora.
What has Maths to do with Myths?
Maths Meets Myths is a research project started at Coventry University in 2010, funded by the Leverhulme Trust [1]. It applies the mathematics of network science to investigate how characters interact with each other in mythology in much the same way as social scientists investigate how people interact with each other in real life. In 2016 a paper was published [2] investigating one of the most famous literary controversies of all time – an 18th-century text that Irish scholars claimed misappropriated material from Irish mythological sources. This paper was covered in international media (e.g., [8]) and recently reignited awareness of the authenticity of Sinann as the Shannon's mythological river deity [3]. The most recent paper in the genre was published in 2020 [4].
When is the deadline for submissions?
Imbolc – 1 February 2021. This festival date is associated with the mythological goddess Brigid. It is also Saint Brigid's Day in Christendom and it is three months after Samhain. Samhain marks the end of the old year and beginning of the new. while Imbolc marks the beginning of Spring. We hope that launching the competition in Samhain (November) will carry entrants through the dark winter months for Brigid to take over in Spring.
How will the submissions be judged?
The University of Warwick is also located in Coventry city. Assisted by Coventry University it developed an algorithm called Calibrate with Confidence to judge objects in circumstances where every assessor cannot assess everything [5]. The algorithm also accounts for different levels of stringency in assessors and different levels of confidence in their assessments. Demonstrating the impact of this algorithm is another aim of this competition.
Who are the judges?
We are keen to make this a prestigious competition, so we are inviting a prestigious panel of judges. We are also interested in a diverse set of opinions, expertise and levels of confidence. The Calibrate with Confidence algorithm irons out any variations and individual subjectivity.
How many submissions do panel members have to judge?
As many as they like – Calibrate with Confidence works without everyone having to assess everything.
Will the panel members be anonymous?
We wish to avail of the prestige associated with panel members to lend prestige to the competition. However, we will not reveal who awarded what score to what submission. We would like data on panel members age and gender so that we can spot any patterns such as whether more experienced people more generous or stringent with their marks. However, you don't have to tell us anything you don't want to.
Who can submit an entry?
Anyone – professional or amateurs from anywhere in the world.
What art media are allowed?
Anything. Sinann sought all-encompassing inspiration and wisdom at Connla's well and no medium is superior to another. Calibrate with Confidence enables interdisciplinary comparisons. Examples include painting, drawing, ceramics, photography, design, crafts, poetry, short story, music, etc. Entries can be in Irish or English.
What are the prizes for children?
We are conscious that standard competitions can have the effect of discouraging a majority of children who fail to be selected for first second or third prizes. Depending on the number of submissions, we hope to offer larger numbers of smaller prizes
How do people submit their art work?
Submissions can take the form of text or photographs of art sent by email to editor@irishpost.co.uk and copied to kenna.ralph@gmail.com. These should be accompanied by a short description of how the art relates to Sinann.
What are the criteria by which the art will be judged?
Submissions are assessed according to originality/creativity, clarity of the theme (and clarity of photo if applicable), quality of composition, effect of the artwork and overall impression as an excellent or outstanding work of art.
Where will the prizes be awarded?
If conditions allow, we would like to announce or award a prize at Rathcroghan, Coventry and the Irish Post offices or a nearby location.
What do the artists get in return?
Three artists will each win £1,000. We hope to publish all submissions in an online gallery at www.irishpost.com and thereby promote their work (we will not reveal individual scores).
We will endeavour to give as many children as possible a prize (e.g., a book, badge or other token, depending on the number of entries).
What do panel members get in return?
Panel members get the pleasure of belonging to an art project and the sense of connection to Sinann and what she stands for. And, if they like, we can use the Calibrate with Confidence algorithm to feedback privately how their opinions compare to other rest of the panel – are you overly stringent or overly generous? Are you overly confident in your own assessments?
Róisín Dubh:
Tell me the legends of long ago
When the kings and queens would dance in the realm of the Black Rose
Play me the melodies I want to know So I can teach my children, oh
Thin Lizzy
References:
[1] P. Mac Carron and R. Kenna, Universal properties of mythological networks, EPL 99 (2012) 28002. DOI:
10.1209/0295-5075/99/28002.
[2] Joseph Yose, Ralph Kenna, Pádraig MacCarron, Thierry Platini and Justin Tonra, A Networks-Science
Investigation into the Epic Poems of Ossian, Advances in Complex Systems 19 (2016) 1650008. DOI:
10.1142/S0219525916500089.
[3] Open Letter to Westmeath County Council from People of Athlone and the World, Westmeath Independent,
27 July 2019 and http://users.complexity-coventry.org/~kenna/letter/letter.pdf
[4] Thomas Gessey-Jones, Colm Connaughton, Robin Dunbar, Ralph Kenna, Pádraig MacCarron, Cathal
O'Conchobhair, and Joseph Yose, Narrative structure of A Song of Ice and Fire creates a fictional world with
realistic measures of social complexity, Proceedings of the National Academy of Sciences Nov 2020,
202006465; DOI: 10.1073/pnas.2006465117
[5] R.S. MacKay, S. Parker, R. Low and R. Kenna, Calibration with confidence: a principled method for panel
assessment, Royal Society open Science (2017) 4 160760; DOI: 10.1098/rsos.160760.
[6] https://www.rathcroghan.ie
[7] Isolde ÓBrolcháin Carmody and Chris Thompson, Story Archaeology website: https://storyarchaeology.com
[8] Mal Rogers, A Celtic Conundrum, Irish Post, 29 October 2016.
[9] Fiona Audley, Art Imitates Life: New study reveals scientific secrets and social complexities of Game of Thrones , https://www.irishpost.com/news/art-imitates-life-new-study-reveals-scientific-secrets-and-social- complexities-of-game-of-thrones-196882 3 November 2020,