Greetings all diggers and scrapers and fragment-collectors…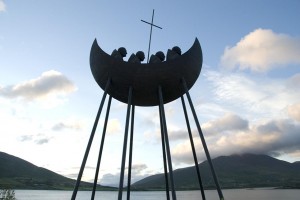 If you read "The Trials and Tribulations of a pair of Story Archaeologists", you'll know that we at Story Archaeology have been on our own technological Immrám for some time now. It certainly can feel very much like "rowing around" when trying to select, construct and set up new computers.
We have conquered one of those islands on our journey. Isolde now has a new PC which is much less terrified of the internet than her previous model. Chris has finally installed the wonders of wi-fi in her own home. So we are ready to strike out on the next leg.
This is where you come in. Please take a listen to this short-cast, which explains why we need your help to continue on our journey. We would be nothing without our wonderful audience. Indeed, we're starting to get the sense that this audience is in fact a community. So please help tug on the oars, and let's keep Story Archaeology on this extraordinary immrám of discovery!
Podcast: Play in new window | Download
Subscribe: Apple Podcasts | RSS | More